ACCUVISION OPTOMETRY SERVICE
Comprehensive Eye Exam

Contact Lens Exam

Pediatric Eye Exam

Low Vision Services

Ocular Prosthetic Fitting

Specialty Contact Lens Fitting
(CRT, Ortho-K)

Eye Disease Treatment
(Glaucoma, Cataracts, Pink Eye, Dry Eye
Macular Degeneration and more)

LASIK Surgery

VISION THERAPY
Just as physical therapy can improve body function, vision therapy can improve eye and brain function. Children who struggle with schoolwork or have a learning disability (i.e. ADHD, Autism, etc.) often have associated visual skill problems affecting their learning potential, especially since about 80% of learning is through the visual system.
Signs and symptoms of visual skill problems include:
Short attention span
Skipping words or lines when reading
Eyestrain or headaches after reading
Intermittent blurry distance or near vision
Poor reading comprehension
Poor handwriting
Frequent letter or number reversal
Evaluation
A child can "pass" their annual eye exam or school screening but still struggle in academics due to undiagnosed vision problems. Optimal visual performance requires vision to be clear, comfortable and efficient. Even people with 20/20 eyesight can have problems with reading, learning or sports. A Developmental Vision Evaluation can help diagnose visual skill deficiencies that may be contributing to learning or behavioral problems.
Treatment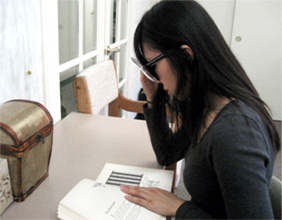 Early detection and treatment of visual skill problems is important in order to prevent unnecessary struggles and promote a higher quality of life into adulthood.
Visual aptitude can be developed with vision therapy, which employs exercises to enhance the eye's ability to track, focus, and work together, as well as improve the mind's ability to process visual information. To schedule a comprehensive vision assessment, please contact our office. (626) 935-8886